WGW Free Glaucoma Screening Sessions
Free Public Screening Sessions for Glaucoma
Daily glaucoma screening sessions during the week from Monday March 12th to Friday March 16th 13:00hrs to 14:30hrs at the GPHC, Eye Clinic. The staff ophthalmologists will be screening approximately 40 patients per day. Vision testing, Eye pressure testing and examination of the eye nerve will be done. As patients arrive at the clinic they are required to register with the clerks and then given a slip for the screening process. Registration will be limited to the daily quotas.
Organized by
Department of Ophthalmology, Georgetown Public Hospital Corportaion
Contact:
Dr. Shailendra Sugrim
Contact Email:
eyeguyana@yahoo.com
http://www.facebook.com/eyeguyana
Category:
Screening event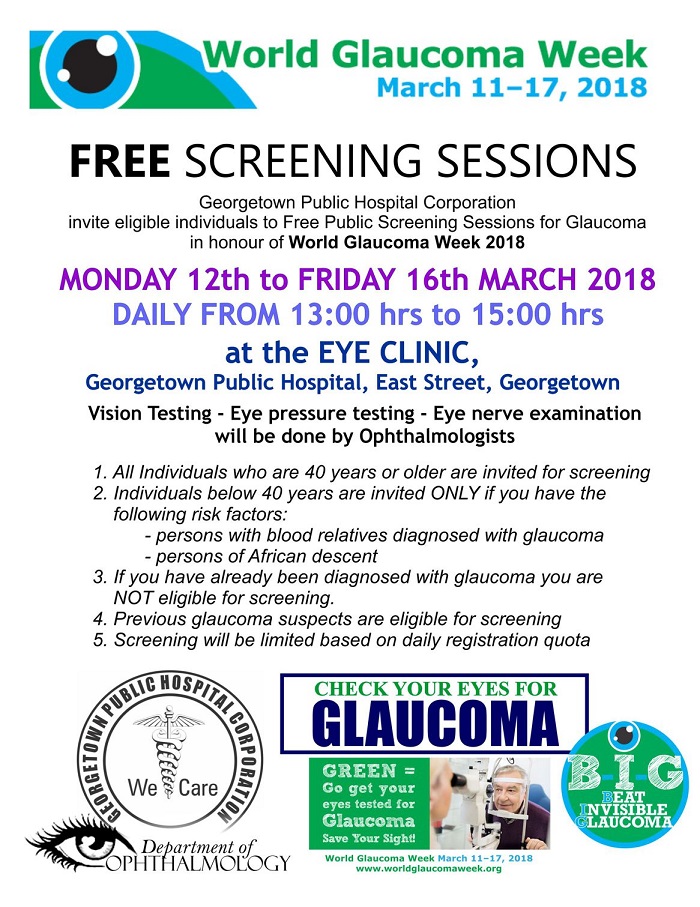 ---
When?
12/03/2018 - 16/03/2018
1:00 pm - 2:30 pm
iCal
---
Where?
Georgetown Hospital
East Street
Georgetown
Guyana
Demerara