Screening event / Control tensional en el Hospital Clínico San Carlos
On Tuesday March 13, from 10:15 to 12 p.m. in Puerta A at San Carlos Clinical Hospital, and within the framework of the World Glaucoma Week 2018, members of the Glaucoma Unit of the Ophthalmology Department, directed by Prof. Julián García Feijóo, will measure intraocular pressures,  an important step in glaucoma screening.
El martes 13 de marzo, de 10:15 a 12:00 p.m. en la Puerta A del Hospital Clínico San Carlos de Madrid, y en el marco de la Semana Mundial de Glaucoma 2018, miembros de la Unidad de Glaucoma del Servicio de Oftalmología, dirigido por el Prof. Dr. Julián García Feijóo, realizarán controles de la presión intraocular, una medida preventiva muy importante en la detección del glaucoma.
Organized by
Aula Zarco, Hospital Clínico San Carlos, Fundación para la Investigación Biomédica del HCSC
Contact:
Dr. Vanessa Andrés
Contact Email:
vanessa.andres@salud.madrid.org
Category:
Screening event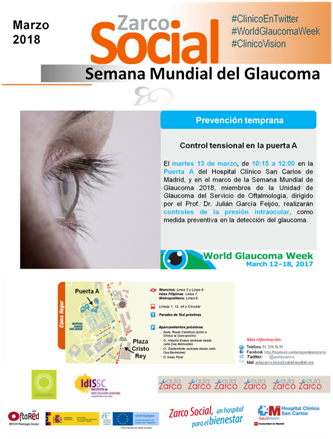 ---
When?
13/03/2018
10:15 am - 12:00 pm
iCal
---
Where?
Hospital Clínico San Carlos
Profesor Martín Lagos s/n (PUERTA A)
Madrid
COMMUNITY OF MADRID
28040