MYVISUALFIELD
With MyVisualField Test App patients with degenerative eye conditions, such as glaucoma, can monitor the progress of their own condition by doing a Visual Field Test.
Using a virtual reality visor, a smartphone and a Bluetooth remote control you can carry out a Visual Field Test wherever and whenever you choose, either at home on your own or in the presence of your doctor in his or her surgery.
MyVisualField Test can't provide diagnoses but can give reliable pointers which must then be backed up and certified by standardized tests and always be interpreted by the supervising doctor, both from the point of view of reliability and the reproduction of the results.
The App conforms to international standards for traditional tests and retains the fundamental features of the automated perimetry test: the central focal point, the pin-point light stimuli and the clicker to register the patient's responses to the light stimuli.
Organized by
ANPIG - Associazione Nazionale Pazienti Italiani Glaucomatosi
Contact:
Paoli Daniela
Contact Email:
paoli.daniela@gmail.com
www.anpi-glaucoma.it
Category:
Screening event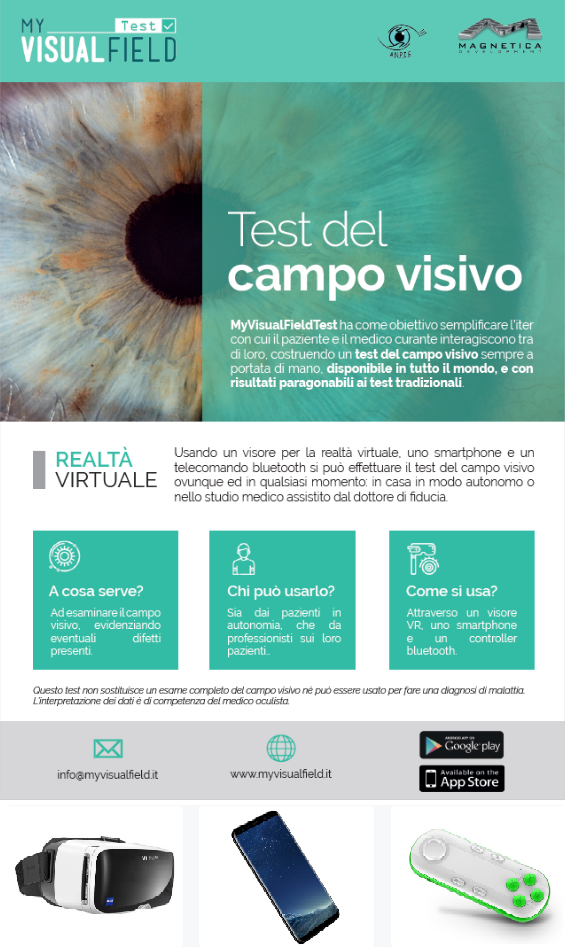 ---
When?
06/03/2020 - 31/03/2020
All Day
iCal
---
Where?
MONFALCONE
Via Roma 39
Monfalcone
Gorizia
34074
Gorizia