"GREAT" PROJECT – 3 (Glaucoma Risk reduction by Early screening and Alleviation of blindness by Timely treatment)
Anasuya Rao Eye Clinic Joins World wide Effort to Raise Awareness of "Silent Sight Thief (Glaucoma)" as  Part of World Glaucoma week celebrations from 9th  – 14th march 2015 by continuation of its "GREAT" project through Foresight Foundation and request you to join hands in fighting this blinding eye disease.
To support World Glaucoma week in the Vijayawada community, Anasuya Rao Eye Clinic hosts a free glaucoma screening and Eye pressure (eye tension)  check-up from march 9th  to 14th from 6 p.m. to 9 p.m. in order to begin the dialogue with people about glaucoma  and distribute free medicines  for poor.
Organized by
Foresight Foundation
Contact:
DR.K.V.RAVI KUMAR
Contact Email:
vravikumark@gmail.com
Category:
Screening event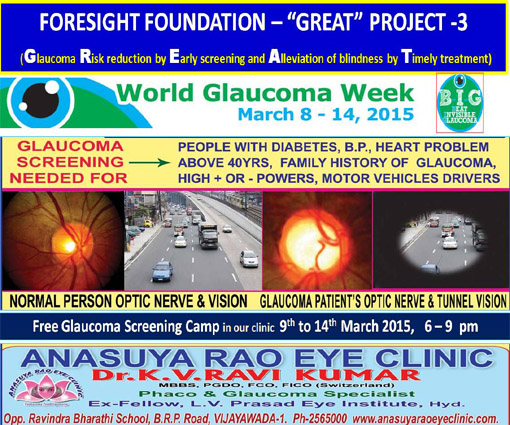 ---
When?
09/03/2015 - 14/03/2015
6:00 pm - 9:00 pm
iCal
---
Where?
Anasuya Rao Eye Clinic
11-1-58, ISLAMPET, B.R.P. ROAD
VIJAYAWADA
ANDHRA PRADESH
520001