Glaucoma Awareness Campaign 2016
https://drive.google.com/open?id=0B5Czx24g5b66aUh5MTAtS1VwQ0k
Glaucoma Awareness Campaign 2016 organized by the Ophthalmology Department in King Abdulaziz University , Saudi Arabia under the supervision of Prof.Osama Badeeb ( Glaucoma Consultant) , Dr.Eman Alhussainy (Glaucoma Consultant) and Prof.Ahmed Bawazeer (Chairman of Ophthalmology Department) , Dr.Nooran Badeeb ( ophthalmology resident ) , Dr.Huda Ahmedhussain (ophthalmology resident) , Dr.Firas Madani (ophthalmology resident ) and in participation with ophthalmology residents in the Saudi Board of Ophthalmology (Western Region) and undergraduate medical students .

The event was held for 3 days in 2 venues : 2 days (18-19 March) in Redsea mall and for 1 day (24th of March) in King Abdulaziz University Hospital .

The main activities :

Infographic Short film explain the disease, it is importance and risk factors , how to diagnose and treat in simple and attractive way alongside with a translation in sign language: https://www.youtube.com/watch?v=-cmptfNiAF4
Flyers ( brochure , Rolls up) and gifts (USB, Pens, Stress Balls)
Questionnaire : to mesure the level of awareness
Intraocular Pressure examination by (Tonopen , Airpuff) , Optic Nerve Photo and OCT
Turkish and Filipino translators
Photo Booth for the visitors
Social Media : Twitter : @glaucomakau ,  Instagram: @Glaucoma_kau ,   Youtube : Glaucoma Kau , Facebook Page: https://m.facebook.com/pages/حملة-التوعية-بمرض-الماء-الأزرق/622952734459425
Media : TV, Radio and news papers
Application in iPhone

Outcome :

More than 1000 visitor to the campaign during the 3 days , 500 were examined for IOP and optic nerve photo.
Organized by
king Abdulaziz University - Ophthalmology Department
Contact:
Dr.Huda AhmedHussain
Contact Email:
hu_altaf@yahoo.com
https://www.youtube.com/watch?v=-cmptfNiAF4
Category:
Screening event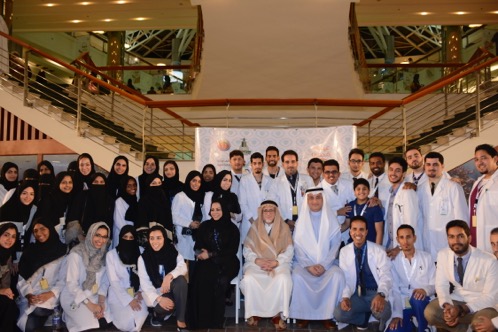 ---
When?
18/03/2016 - 24/03/2016
All Day
iCal
---
Where?
King Albdulaziz UniversityHospital and Redsea Mall
King Abdulaziz University Hospital
Jeddah
Western region
Western