Free Eye Healthcare Checkup & Glaucoma Screening Camp
Welcome to World Glaucoma Week 2021
#glaucomaweek
World Glaucoma Week is a global initiative of the World Glaucoma Association (WGA) in order to raise awareness on glaucoma.
The 2021 theme reflects the hope that with regular testing, people continue to see the world around us: full of beauty, charm, and adventure. The world is bright, save your sight!
"The overarching goal of this campaign is for everyone to know about the disease called 'glaucoma' and encourage the general public to go and get tested. Glaucoma is one of the leading causes of irreversible blindness, but with early treatment, the damage may get limited and sight may be saved. By promoting regular testing, we also want glaucoma patients to get their relatives involved, as the chances of them getting glaucoma are 10 times higher than someone with no glaucoma history in their close family environment. Therefore, the World Glaucoma Week is a great opportunity to raise awareness through word of mouth."
Team MEHF celebrated the beginning of WGW 2021 at MEI the fixed facility initiative of the foundation.
The event was blessed with the pious presence of HH Shri Swami Divyanand Ji Maharaj (Hony. chair MEHF).
Guest of Honour Dr Dheeraj Setia IPS, (DCP South Gurgaon.) Haryana Police presided over the meeting and praised the team for their selfless efforts for the welfare of the community.
Dr Sumit Grover Founder Patron delivered a health talk on Glaucoma awareness.
Free Glaucoma case detection/ screening camp was also organised by the team of ophthalmologist and optometrists marking this important day.
This will be followed by series of Glaucoma awareness events covering various districts of Haryana during the whole WGW by team MEHF.
Organized by
MANTHAN EYE HEALTHCARE FOUNDATION
Contact:
Sachin Grover
Contact Email:
director@mehfindia.org
www.mehfindia.org
Category:
Screening event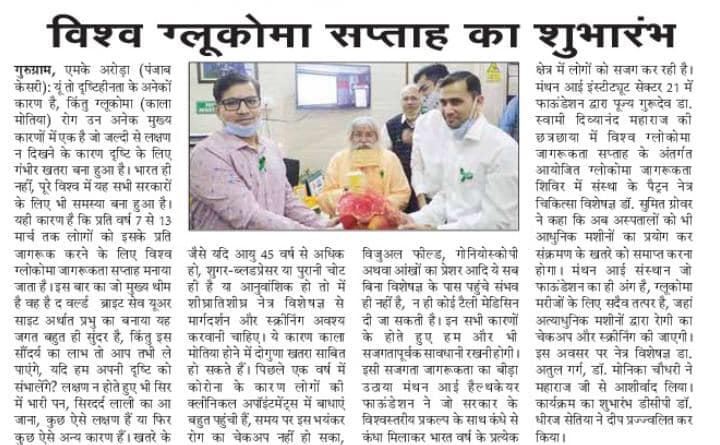 ---
When?
02/03/2021
11:00 am - 3:30 pm
iCal
---
Where?
GURGAON
MEHF 1134, SECTOR-21
GURGAON
HARYANA
122016
HARYANA