For Zayed, We Walk to Prevent Glaucoma UAE 2018
The Emirates Medical Association – Society of Ophthalmology, in its continuous effort to contribute to the social development of UAE communities, is organizing a health educational campaign, in support with MILITARY SERVICES CORPS.
In celebration of the World Glaucoma Week, the event is titled 'For Zayed, We Walk to Prevent Glaucoma' with an aim to raise awareness about Glaucoma and as part of the Year of Zayed initiative for 2018.
This event will be conducted by the members of the society in the field of Ophthalmology, to share their knowledge of the topic with a set of interactive activities including but not limited to the following:
• Outdoor Fun Run / Walk Activity
• Health Educational Lecture Booth discussing Glaucoma and other related eye blinding disorders
• Live Experience with Glaucoma Goggles and White Cane
• Fundus Photo Camera Eye Screening
• Sports Activities,
• Awarding Ceremony
Organized by
Synovetics FZ LLC
Contact:
Dr. Omnia Awadh Mubarak Hamam
Contact Email:
doctor_omnia@hotmail.com
https://www.esouae.com/world-glaucoma-week/
Category:
Awareness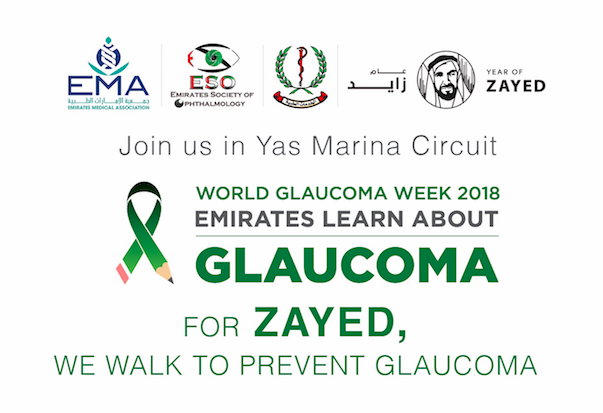 ---
When?
10/03/2018
9:00 am - 4:00 pm
iCal
---
Where?
Abu Dhabi, UAE
Yas Island
Abu Dhabi
United Arab Emirates