World Glaucoma Week: Use The Amsler Grid – Newsletter
World Glaucoma Week, March 11 -17, 2018
Going Blind and Going Forward has been doing its part.
In honor of World Glaucoma Week, we encourage you to use the Amsler Grid to test your vision. The Amsler Grid was developed to alert patients to the beginnings of acute macular degeneration. Do the straight lines appear squiggly? If so, make an appointment with an ophthalmologist!
The Amsler Grid can also show visual field loss from Glaucoma. If you close one eye and focus on the center, and find there are parts of the grid you cannot see, it may indicate visual field loss from glaucoma. Take a look at the Amsler Grid https://goingblindmovie.com/amsler-grid/ on the Going Blind website and check it out for yourself.  Let us know what you think.
Going Blind: Coming Out of the Dark About Vision Loss, and its outreach campaign Going Blind and Going Forward, continue to ignite a global movement of individuals, grassroots organizations, and medical professionals, sponsoring screenings that raise awareness and improve access to vision enhancement services.
To help us continue our mission, all donations are 100% tax-deductible through our 501c3, A Closer Look, Inc. http://www.acloserlook.org/.
Your help in supporting our efforts are greatly appreciated.
Our immediate goal with this outreach is to make ophthalmologists aware that referring a patient to a low vision therapist early in their irreversible sight loss journey will help the patient to make the most of their remaining vision and improve their quality of life (see our video There is Something You Can Do at www.aao.org/low-vision-and-vision-rehab). To that end, we screen Going Blind with resident training programs as well as physician and community groups. I also present "the patient perspective" at international and national ophthalmology conferences.
In 2017, we screened Going Blind with ophthalmology residents and attending practitioners at NYU Lagone Medical Center, Montefiore Medical Center, and  Rutgers New Jersey Medical Center. We also gave a class at Mount Sinai's Icahn School of Medicine's The Pulse of Art: Connections Between the History of Art and the History of Medicine.
On the patient side, we show Going Blind at support groups and I make myself available to patients who contact me through our website or from referring doctors. I try to help them understand their options and encourage them to take an active role in improving their experience in ophthalmology care.
In January 2018, The New York Academy of Medicine held a screening and panel discussion for members of the medical field and the general public. I hosted a panel including James Tsai, MD, MBA, President, New York Eye and Ear Infirmary of Mount Sinai and Chair of the Academy's Section on Ophthalmology; Jessica Jones, Artist and Art Teacher, The Lavelle School for the Blind; and Nancy D. Miller, LMSW, Executive Director/CEO, VISIONS/Services for the Blind and Visually Impaired, and myself.
To show how communications can build organically, the NYAM screening led to an introduction to Frank Bruni, Op Ed columnist for the New York Times who was preparing his article "Am I Going Blind?" (http://nyti.ms/2oui2g2). Having just lost the vision in his left eye four months ago, Frank interviewed me and others about dealing with vision loss. It's very perplexing to lose your vision and I was happy to share what I've learned from others – especially from Going Blind's Jessica Jones, who early on reassured me that "you learn to use what you have."
Frank referred his viewers to our new website which brought in a number of inquiries and screening requests.
Our website GoingBlindMovie.com has been redesigned to enhance the user experience. The website offers access to stream or purchase the film for Educational or Institutional purposes, as well as resources for patients and physicians.   
Again, to help us continue our mission, all donations are 100% tax-deductible through our 501c3, A Closer Look, Inc. http://www.acloserlook.org/.  
Thanks,
Joe
Organized by
Jordan Hawkes
Contact:
Jordan Hawkes
Contact Email:
jordan@lovettproductions.com
https://goingblindmovie.com/
Category:
Awareness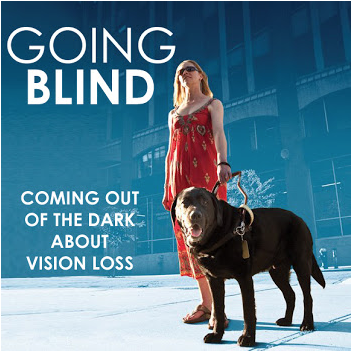 ---
When?
08/03/2018
All Day
iCal