Patient Education Lecture: Glaucoma Focus
"Glaucoma Focus": The public awareness lecture was held at Santokba Hall,  Parle (W) on March 8, 2015. The function was attended by 228 people. During this three hour session, Dr. Shefali Parikh explained about the common eye diseases and importance of healthy life style and preventive measures for keeping eyes healthy. Dr. Rajul S Parikh elaborated on glaucoma and its social and economic impact on the society.  He also talked about the high risk factors for glaucoma like if you are 40years +, near/ far sighted, have family history for glaucoma, get headache/ vision loss. If any of the above risk factor is present, then you should get your eyes checked for glaucoma. Subsequently, few glaucoma patients also talked about their own experience that how their vision got affected by glaucoma and how their doctor is helping them to retain their vision and cope with the disease.
In the same event, we launched Glaucoma Support Group named "Eye to Eye: Mumbai Glaucoma Patient Support Group. Under an able guidance of glaucoma Specialist Dr. Shefali Parikh, this group will meet every 3 months with sole objective of improving glaucoma awareness and to improve psychological well being of the patients.
The concept of "Drama Therapy" for the management of glaucoma patients was introduced.  This therapy is already being used for the management and psychological well-being of patients of chronic diseases like cancer, depression, and de-addiction all around the world. We feel proud to announce that this therapy has been introduced for the first time in the world by us for Glaucoma management. Drama therapy uses the various techniques of theatre to help people solve problems, express and experience suppressed emotions, explore and act out unhealthy interactions to gain greater understanding of disease and achieve better personal health. It helps people remove fear of severe disability in this case of blindness.
Organized by
Shreeji Eye Clinic & Palak's Glaucoma Care Centre
Contact:
Dr. Rajul S Parikh
Contact Email:
drparikhs@gmail.com
Category:
Public educational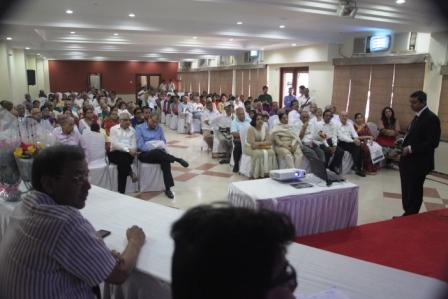 ---
When?
08/03/2015
9:45 am - 12:00 pm
iCal
---
Where?
Santokba Hall
near Bhiadass Hall, Road No 1, Juhu Scheme Road, Vile Parle (W),
Mumbai
MH, India
400056