Making an iMPACT: Glaucoma Perspectives
In recognition of World Glaucoma Week, Glaukos in support of the World Glaucoma Association, has launched a global education & awareness campaign titled "Glaucoma Perspectives: Making an iMPACT". The campaign serves to spread glaucoma awareness, stress the importance of early diagnosis & treatment and reaffirm Glaukos' commitment to advancing the standard of glaucoma treatment and management around the world.
The campaign consists of a series of engaging video interviews with physician leaders & glaucoma patients. Physicians interviewed include Deborah Gess Ristvedt, DO (US), Robert Stutman, OD, MBA, FAAO (US), Imran Masood, B.Sc (Hons), MB ChB, MRCS (Ed) FRCOphth (UK), Alfonso Antón, MD (Spain) and L. Jay Katz, MD, Chief Medical Officer, Glaukos (US) who discuss the importance of regular glaucoma screenings, the necessity to diagnosis and treat glaucoma as early as possible, prevalence of the disease in high-risk groups and how glaucoma patients are co-managed.
The Making an iMPACT: Glaucoma Perspectives interview series will be featured on the Glaukos website & shared on our social media channels.
Organized by
Glaukos Corporation
Contact Email:
kisselee@glaukos.com
www.glaukos.com
Category:
Awareness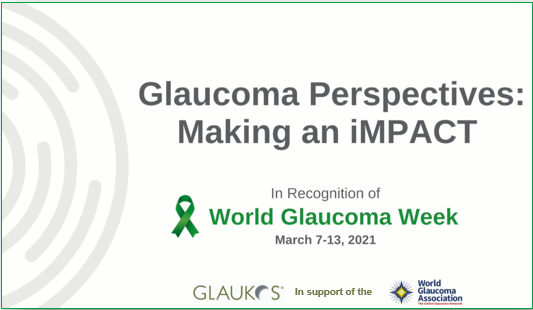 ---
When?
07/03/2021 - 13/03/2021
12:00 am
iCal
---
Where?
Glaukos Corporation
229 Avenida Fabricante
San Clemente
California
92672