Living with Glaucoma – the Patient Experience
Join us for a very special Facebook Live Q&A with glaucoma patient Shannon Davis on Thursday 10th March at 6PM AEDT!
Shannon was first diagnosed with glaucoma when he was 43. Having never needed glasses before, his primary concern heading to his optometrist was getting a good-looking pair of frames.
10 minutes into his appointment he was told he had advanced glaucoma with high eye pressures and irreversible damage to his optic nerves. He needed to see an eye surgeon and begin treatment urgently. Shannon is now legally blind, no longer able to drive and has medically retired from his job.
During this Facebook Live event he will share his experience living with glaucoma and talk about the importance of all Australians prioritising their eye health and having regular eye exams.
The Q&A session following Shannon's presentation will be hosted by Glaucoma Australia's CEO Annie Gibbins and include our Orthoptist Educator Sapna Nand.
We would love for you to join us next week and hear from Shannon. If you have any questions you'd like to ask him about his experience, be sure to add them in the comments below!
This Live event will take place on the Glaucoma Australia Facebook page. To attend, simply visit the group page at 6PM on Thursday 10th March to watch the presentation.
https://www.facebook.com/events/3227470407472970
Session Times by State:
06:00pm AEDT (ACT, NSW, VIC, TAS)
5:30pm ACDT (SA)
5:00pm AEST (QLD)
4.30pm ACST (NT)
3:00pm AWST (WA)
Organized by
Glaucoma Australia
Contact:
Glaucoma Australia
Contact Email:
glaucoma@glaucoma.org.au
https://glaucoma.org.au/i-have-glaucoma/your-support-network/events/living-with-glaucoma-the-patient-experience
Category:
Awareness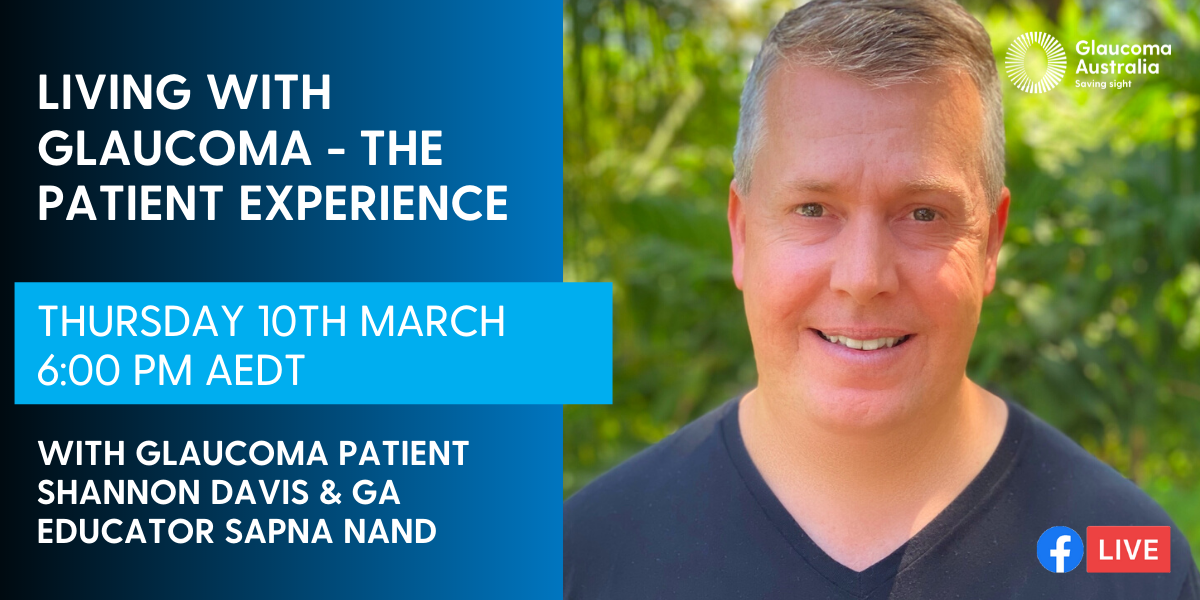 ---
When?
10/03/2022
7:00 pm - 8:00 pm
iCal
---
Where?
Glaucoma Australia
Suite 302, Level 3, Hampden Road
Artarmon
NSW
2064
Sydney