Light Up in Green movement by Japan Glaucoma Society
More than 700 facilities nationwide will be illuminated.
The "Light up in GREEN" movement is a movement led by the Japan Glaucoma Society to light up public (and private) hospitals and institutions in green during World Glaucoma Week, to spread glaucoma awareness and impel latent patients to visit medical institutions. The green light represents hope for a lifetime of quality vision in glaucoma patients.
We started the movement in 2015 in 5 participating institutions and our movement has been expanding yearly.The address shown is simply the office of the executive committee, and the facilities for lighting up are spread all over Japan. The keywords are Early Diagnosis, Continued Treatment with Hope.
Organized by
Japan Glaucoma Society
Contact:
Japan Glaucoma Society Light Up in Green committee
Contact Email:
jgs.wgw@gmail.com
https://www.ryokunaisho.jp/light_up/static/summary_en
Category:
Awareness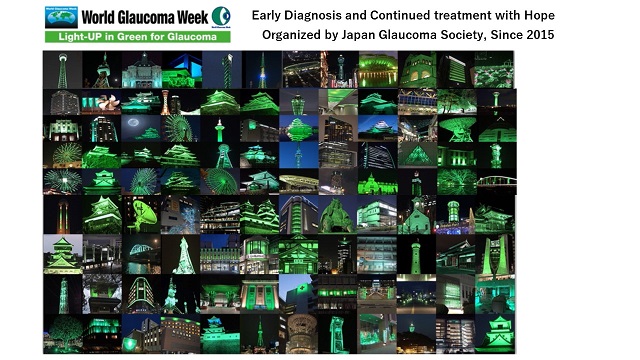 ---
When?
06/03/2022 - 12/03/2022
All Day
iCal
---
Where?
Light Up in Green Committee office
Honmachi 3-101-1
Tajimi
5070033