Glaucoma Awareness Campaign
….. The World is Bright Save your sight ….Tunza uoni wako, nuru ya Dunia yako as translated in Swahili language, is a possibility on communities well informed about Glaucoma. Thus, during WGW 2021 commemorations, once again, we collaborate with other eye care stakeholders in the country to organize live TV programs to educate the public about Glaucoma. In addition, glaucoma leaflets for sensitizing early diagnosis, treatment acceptance and adherence on follow-up reviews will be disseminated to the community.
Organized by
NEW VISION SPECIALIST EYE CLINIC
Contact:
Mr. Sharqaaw A. Singoy
Contact Email:
nvmsasani@gmail.com
www.newvisioneyeclinic.co.tz
Category:
Awareness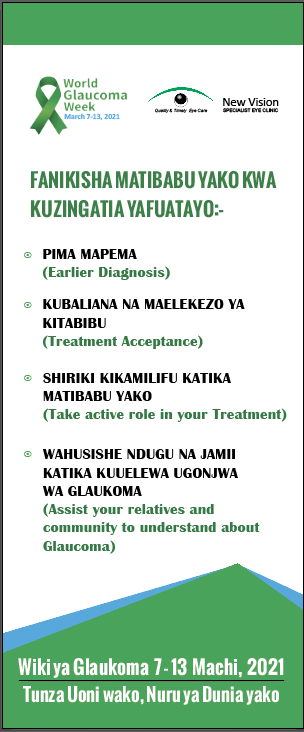 ---
When?
08/03/2021 - 13/03/2021
8:30 am - 3:30 pm
iCal
---
Where?
NVSEC – Dar es Salaam
Makangira Str, Block no 444, Msasani
Dar es Salaam
DAR ES SALAAM
00
DAR ES SALAAM