Glaucoma Aware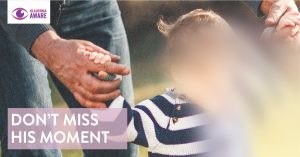 A new campaign titled Glaucoma Aware is carrying out a nationwide mission to unearth 150,000 Australians who face preventable blindness and don't know it*1,2. Launching this World Glaucoma Week (March 12 – 18), the campaign aims to educate Australians about glaucoma and encourage those at-risk to get a comprehensive eye check.
More than 300,000 Australians have glaucoma yet only half have been diagnosed*1,2, typically because they haven't had a simple eye check by an eye health provider such as an optometrist or ophthalmologist. Around 60% of Australians either haven't been tested or don't know if they've been tested for glaucoma*4.
The Glaucoma Aware campaign, sponsored by Novartis and supported by Glaucoma Australia and OPSM, aims to encourage Australians to avoid missing out on life's special moments by getting their eyes checked for glaucoma.
1. Mitchell P et al. Prevalence of open angle glaucoma in Australia. The Blue Mountains Eye Study. Ophthalmology. 1996 Oct;103(10):16619.
2. Wensor MD et al. The prevalence of glaucoma in the Melbourne Visual Impairment Project. Ophthalmology. 1998 Apr;105(4):7339.
3. Tham YC, Li X, Wong TY et al. Global prevalence of glaucoma and projections of glaucoma burden through 2040: a systematic review and meta-analysis. Ophthalmology 2014;121(11):2081-90.
4. Edelman Intelligence. Global glaucoma awareness campaign: awareness survey results. June 2016
Organized by
Novartis, Glaucoma Australia and OPSM
Contact:
Geoff Pollard
Contact Email:
glaucoma@glaucoma.org.au
www.glaucoma.org.au/glaucoma-aware
Category:
Public educational
---
When?
12/03/2017 - 18/03/2017
All Day
iCal