Glaucoma Australia Treat Your Eyes 7 Sights in 7 Days Challenge
Let's take glaucoma blindness out of the picture
Join us on our sight-saving mission for World Glaucoma Week (6-12 March).
By taking part you'll not only raise vital funds for specialised patient support services that improve treatment outcomes and prevent vision loss, but you'll also spread the word on how important it is to Treat Your Eyes to regular check-ups.
Find, Snap and Share 7 amazing sights in your neighbourhood whilst you fundraise to end glaucoma blindness.
Organized by
Glaucoma Australia
Contact:
Glaucoma Australia
Contact Email:
sevensights@sevensights.org.au
https://www.sevensights.org.au
Category:
Awareness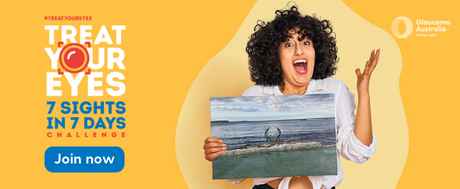 ---
When?
06/03/2022 - 12/03/2022
All Day
iCal
---
Where?
Glaucoma Australia
Suite 302, Level 3, Hampden Road
Artarmon
NSW
2064
Sydney