Free Online Consulation Appointments with Professors and Experts about Vision Loss
Savir Center offers vision restoration treatment developed by Prof. Dr. Bernhard Sabel´s research team to patients who are suffering from vision loss due to different kinds of diseases. Our official website: savir-center.com
From 09.03.2020 to 11.03.2020, we decided to offer 40 free online consultation appointments with Professors and experts from Savir Center to those who want to talk about their current situation and problems. The length of each appointment will be about 15 mins (calling or online audio chat).
If you would like to schedule an appointment, please send us an email to xsun@savir-center.com.
Organized by
Sabel Vision Restoration Center (Savir Center)
Contact:
Savir Center
Contact Email:
xsun@savir-center.com
https://savir-center.com/
Category:
Public educational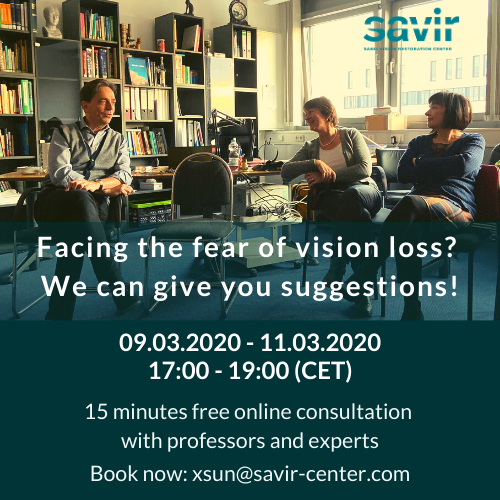 ---
When?
09/03/2020 - 11/03/2020
5:00 pm - 7:00 pm
iCal
---
Where?
Sabel Vision Restoration Center (Savir Center)
Ulrichplatz 2
Magdeburg
39104
Saxony-Anhalt