Cycling for glaucoma awareness
Cycling for Glaucoma Awareness, 8 March 2020, 11 am, Mevlana Square, Konya, Turkey
The goal of this cycling event was to raise awareness of glaucoma and the importance of early diagnosis and treatment. This event happened in Konya, which is one of Turkey's oldest cities and was known as Iconium in Roman times. As the capital of the Seljuk Turks from the 12th to the 13th centuries, it ranks as one of the great cultural centers of Turkey. The start area was Mevlana Square, near the museum and tomb of Mevlana Celaleddin-i Rumi, the Sufi poet, theologian, and the most important humanistic and Islamic mystic philosopher more commonly known around the world as Rumi. This complex was built in the 14th century and the center for the religious order of whirling dervishes and a place housing priceless works of art. Some of Rumi's quotes about eyes are "If your eyes are opened, you'll see the things worth seeing" "Listen with ears of tolerance! See through the eyes of compassion! Speak with the language of love"….
Around 100 ophthalmologists, ophthalmic technicians, nurses and medical faculty students cycled on a 4-5 km /8-10 miles route. They wore green-white cycling jerseys with different glaucoma slogans at the back. "Glaucoma is one of the leading causes of irreversible blindness", "Get your eyes tested for glaucoma", "Don't let glaucoma darken your life". A protocol of 20 people (Governor, Commanders, University Deans, Head of Turkish Cycling Federation, Principals…) and more than 100 procyclists participated to the event to support the activity. Pro cyclists carried a banner about glaucoma. At the beginning of the event, Prof. Dr. Banu Bozkurt (Selcuk University Dept. of Ophthalmology, Konya), Prof. Dr. Özcan Ocakoğlu (Chair of Turkish Ophthalmology Association Glaucoma Society, Istanbul) and Governor of Konya, Cüneyit Orhan Toprak made a press release and gave information about glaucoma signs, symptoms, treatment options and consequences if not treated and pointed the importance of early diagnosis. This activity was broadcasted on tv and by newspapers.
Organized by
Prof. Dr. Banu Bozkurt, Selcuk University Department of Ophthalmology, Konya, Turkey and Turkish Ophthalmology Association Glaucoma Society Chair Prof. Dr. Ozcan Ocakoglu and Board Members
Contact:
Banu Bozkurt
Contact Email:
drbanubozkurt@yahoo.com
Category:
Media coverage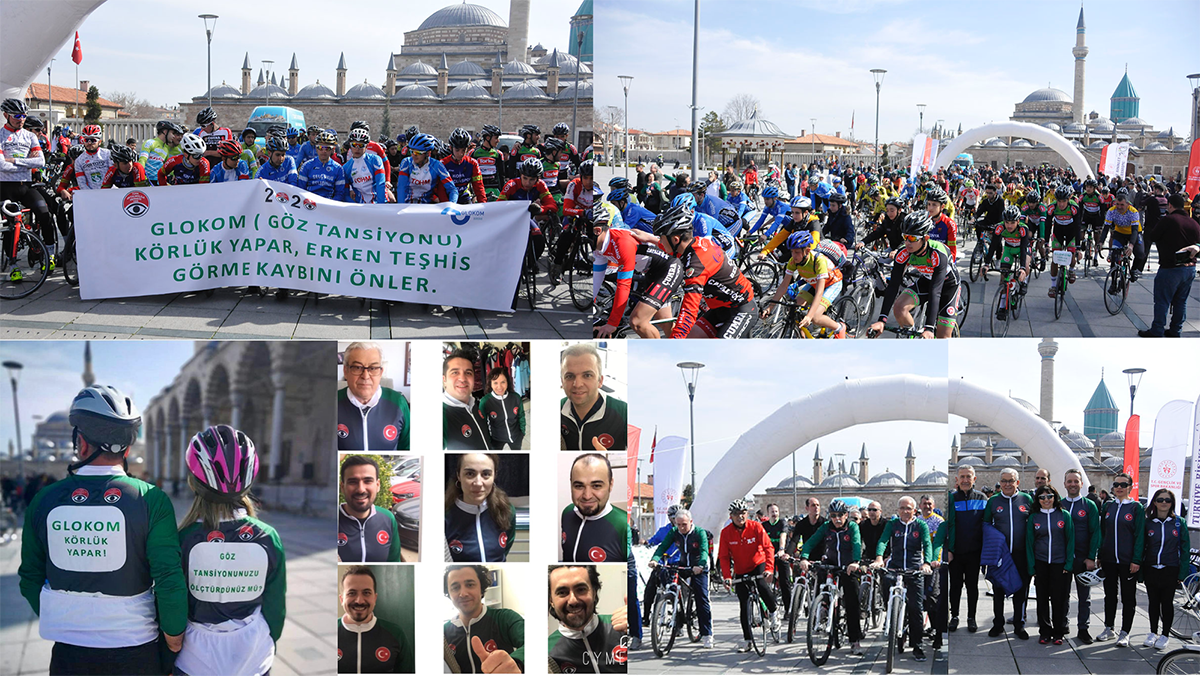 ---
When?
08/03/2020
11:00 am - 12:30 pm
iCal
---
Where?
Mevlana Square
Aziziye, Selimiye Cami No:3, 42030 Karatay/Konya
Konya
42080