MASS MEDIA CAMPAIGN / SCREENING PROGRAMME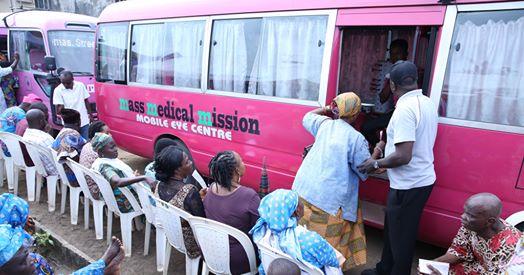 PinkVISSION is the eye campaign of mass medical mission which incorporates preventive eye care into the preventive cancer and general healthcare of mass medical mission / National Cancer Prevention Programme (NCPP).
The acronym "VISSION" stands for Voluntary Integrated Sight Saving Initiative of Nigeria. To achieve its goal of "Preserving Vision, Saving Lives", PinkVISSION carries out year-round free community-based outreaches known as Mission PinkVISSION. This is integrated into the free cancer, general health and dental preventive  programme of mass medical mission, known as Mission PinkCruise and Mission PinkDentist respectively.
To mark the 2020 World Glaucoma Week, PinkVISSION is currently carrying out mass media campaign to sensitize the general public about how to arrest "the Silent Thief of Vision"- GLAUCOMA.
In addition, glaucoma screening is scheduled to hold as follows:
DATE: Wednesday, the 11th of March  and Friday, the 13th of March, 2020
TIME: 7am to 6pm on each day
VENUE: mass medical mission House, 31 Bode Thomas Street, Surulere, Lagos
Groups are also invited to apply to be included in the roster of Mission PinkCruise/PinkVISSION by sending an email to info@pinkcruise.org